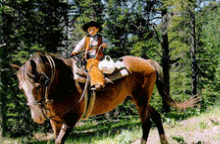 Time spent around the campfire and sleep will come easy.
Succeeding days present you with a wonderful variety of scenery and wildlife.
Lasting friendships form as you experience the Canadian Rockies with your guides and fellow riders.
You owe yourself the pure satisfaction our tour will give!
COME RIDE WITH US!
Leave today's pressures behind. Relax and enjoy your tour on horseback through the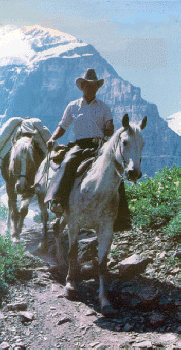 beauty and the majestic Canadian Rockies in Banff National Park.
Your vacation begins at our main corral located behind Deer Lodge at Lake Louise. From this beautiful starting point you travel into the Rockies mounted on an extremely reliable horse. Inexperienced riders will have no trouble getting along with their horses. As we tour the wilderness you will experience, first hand, some of the freshest air, clearest water and most breathtaking scenery this world can offer.
After days filled with photography, fishing, hiking, riding or just plain relaxing, you will find yourself enjoying one of the hearty home cooked meals expertly prepared by our trail cooks.
You will capture the memory of a lifetime, whether you bring a camera or not.
Book online now!